Blog
CashorTrade Picks: Top Tier 2.0 Jams
April 6, 2021 - By Alec Tatro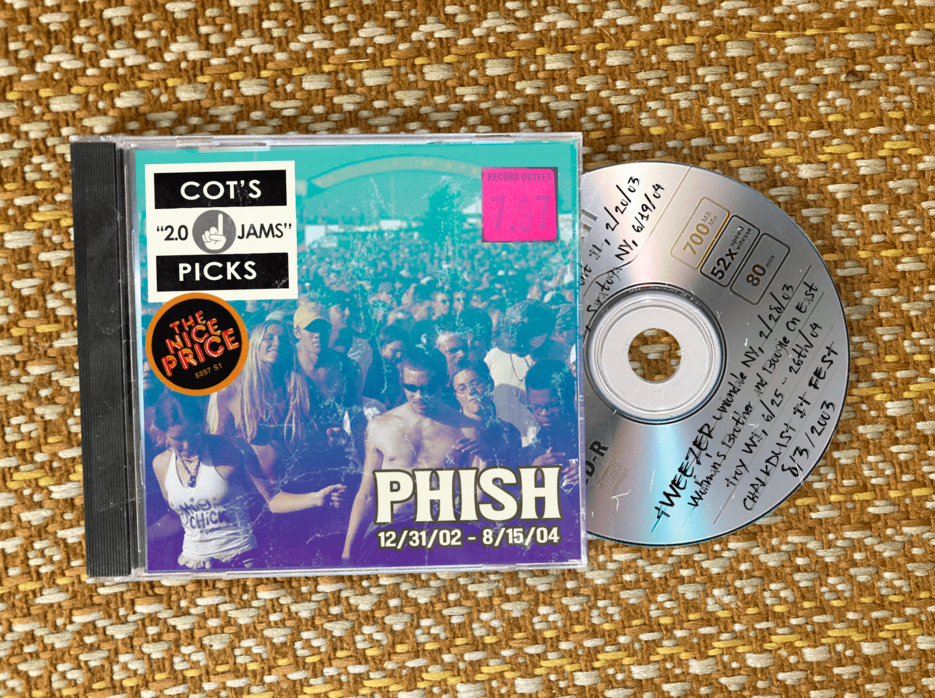 Listen to the LivePhish Playlist of the songs listed here on our mobile LivePhish app!: https://livephi.sh/3wGMF45

Everyone has a favorite era of Phish. Whether you're a seasoned vet, or if you've only seen a handful of shows, everyone has their preferences. In the golden age of the internet, it has never been easier to access recordings or soundboards of shows (albeit, there is something special about a family member or friend bestowing upon you a tape from a show). CashorTrade as a community grew during Phish's reunion in 2009, as fans were eager to see their favorite band take the stage again after the trials and tribulations leading to their breakup in 2004. Their reunion in 2009 famously noted the new era of Phish, colloquially known as 3.0 for the shows following their second hiatus. In mid-January of this year, Trey posted a photo on his social media sites of a new guitar Paul Languedoc forged for him, which he jokingly dubbed as the 4.0 guitar (or was it a joke?). Either way, the pandemic we're all facing has marked a hiatus of its own whether we like it or not, so it inspired us here at CashorTrade HQ to remember some of our favorite eras of Phish and to spur conversation among the community.
You might be asking yourself why we'd dive into 2.0 Phish first? Across the board, it seems Phish fans have the strongest and most differing opinions about this period of Phish. The common criticisms spawn from the uncertainty that this short-lived period of the band's career provided- a distinctly different sound from the band, a distinctly different attitude from its members, and a distinctly different feeling as a fan. When thinking about the pandemic and the uncertainty that it provided, it also begs us to look deeper and find the magic that reverberates through the chaos. Here's a playlist to ease your mind and remind you of that magic and those paramount moments in phishtory, whether you love it or hate it. After all, "If you would only start to live one moment at a time, you would, I think, be startled by the things that you would find."
Chalkdust Torture, IT Festival, Loring Air Force Base, August 3rd, 2003
2.0 era Phish shows have commonly been criticized by nonbelievers as choppy, messy, or unstructured, but the antithesis of this criticism couldn't be more apparent when you listen to this creme de la creme Chalkdust Torture jam from the second night of the IT festival. IT was a historic achievement for Phish, as after four years of no festivals, let alone two years of no shows at all, they wanted to give phans a powerhouse Phish experience. The festival drew in more than 60,000 people and even featured a 3 a.m secret set on top of an air traffic control tower. Phish is no stranger to crushing shows in Maine, and they had a long history of Maine shows to live up to, but they most certainly delivered. This Chalkdust is a great example of that: it's tight, bright, and filled with 24 minutes of pure delight.
Gotta Jibboo and Seven Below, Allstate Arena, Rosemont IL, 2/20/03
Writing a blog like this, it was incredibly hard not to include every show from Phish's Winter '03 tour. I mean, really hard. There's just something special when you listen to these shows. Phish had a new sound, and a new repertoire of songs to debut after the release of Round Room. Among these are "Seven Below", which they played for the 3rd time at Allstate Arena. It's a hypnotic, undulating, and downright phunky version of this song and incorporates the 2.0 sound masterfully. The dark interplay between Trey and Page sandwiched between its phunky bread is a defining characteristic that is unmistakable. On to the Jibboo, well, what can I say? It is one of the longest ones to date, so this version is definitely a journey. The tension-release nature of this jam is sure to impress, as it feels like an ever-building crescendo. This whole show is a powerhouse and a must-listen among the whole Winter '03 tour.
Piper, SPAC, Saratoga NY, 6/19/04
2.0 was an absolute time for Piper jams, they were lengthy, explorative, and in a lot of cases dark and spooky. Yes, a song about a red worm can be serious too, and this jam is anything but phunny. This Piper jam is a journey, as it emerges from the compost heap of Gamehendge with the spacey groove which we all know and love, that seemingly interludes before it angrily launches into a Tweeprize filled jam that absolutely rocks the house and funks its way into a Jibboo. It's a phan favorite for good reason, and it certainly speaks for itself.
Tweezer, Nassau Veterans Memorial Coliseum, Uniondale NY, 2/28/03
You knew this was coming. Phish decided to ride the momentum of their infamous Winter '03 tour with an absolutely memorable show at Nassau Coliseum. Smack dab in the middle of a five-song second set, this Tweezer was placed in a special night that included an all-time "Back on the Train", and a bust-out of "Destiny Unbound" after 700+ shows. This barn-burner of a show made it on a LivePhish CD release for good reason and ranks high on Phish.net's top 100 shows. The Tweezer is a staple of 2.0 exploration and included teases from songs like "San-Ho-Zay", "Cars Trucks Buses", and "Do You Feel Like We Do." I'll let the jam do the talking on this one.
Tube, Verizon Wireless Music Center, Noblesville IN, 6/24/04 - Everyone loves Tube, it's just so stupendous. This Tube is often overlooked but has some extremely hot energy to it. It's dirty, extremely bass-driven, and is a good example of some of 2.0's chaos being put to good use. The right word for this jam could be "textured", as every member of the band layers grooves on top of each other. If you're a Gordo fan- look no further. Sometimes you just want a Tube to never end, but we'd like to think that this jam is intense enough to be satisfied with what you get.
Wolfman's Brother and Boogie On Reggae Woman, Alpine Music Theater, East Troy WI, 6/25 and 26th/04
We find ourselves a day after that Tube, and now we're at Alpine Valley near the latter half of the first set. Wolfman's is a classic, and this version is a great combination of the cowphunk we've known this jam for, and the "Type II" nature that is so present in 2.0 jams. Something must have been in Gordo's coffee during these few days because, in this jam, he's really steering the ship. There are a lot of great Wolfman's jams during these two years, but we hold this one in high regard. After recovering from the first day of Alpine, don't expect to get much of a break. In one of the longest and explorative Boogie Ons, Phish really set a high bar for what this song means from that moment. You know that a song is that good when it needs its own name (behold, the Alpine Valley Jam).
Scents and Subtle Sounds, Tweeter Center, Camden NJ, 7/30/03
Well, we're coming to a close on our list, and with many new songs of this era to mention, an important one that comes to mind is Scents and Subtle Sounds. It's a powerful song and means a lot to the band. Much like Piper, Scents is a saga of a song. In the few shows after its debut, as soon as the melody commences you know you're in for a long ride. You'll be hard-pressed to find one under 10 minutes in 2.0, but there's a reason for that there's a lot to it. We think that's what sets this era apart from the rest, Phish showed their fans that being patient and strapping in for the ride will be rewarded (it is a virtue after all).
So let's use some of this wisdom we gain from exploring 2.0 Phish, and let's be patient and find the beauty in the chaos of things in these pressing moments. We send our fellow phriends and phamily extra love and encouragement that we will get through this time without our favorite band, and hold on to the dream of dancing together again soon!
"Everything's right, so just hold tight".
Let us know on our Facebook, Twitter & Instagram pages which jams we missed! We know you've got opinions, Phish fans. :)