Blog
10 Legendary 'Down With Disease' Performances To Get Down With While Practicing Social Distancing
March 16, 2020 - By Dana Slattery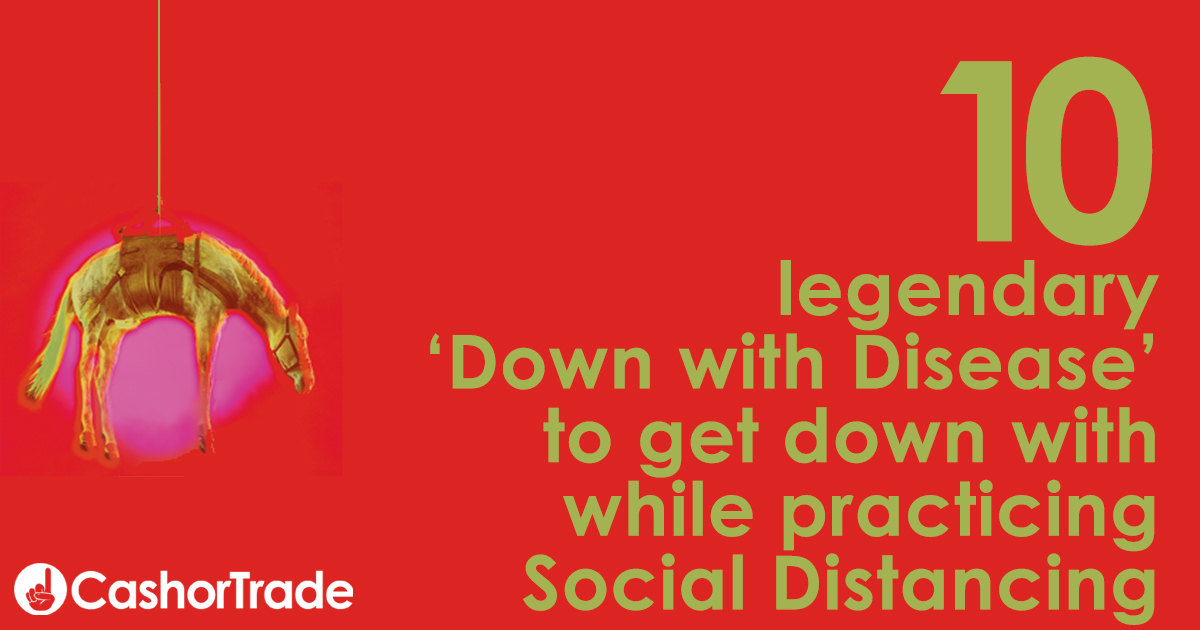 Self-isolating isn't so bad... It gives you time to reflect on the finer things in life... Like these 10 downright filthy Down With Disease's that make you feel like you might want to go wash your hands after listening.
1. Walnut Creek- 7/22/1997
Walnut Creek - 1997. Something lost in the video but not yet to the sands of time is the rainstorm that prefaced this DwD. Those who didn't make it missed this historic Disease/highlight of the second set. The seamless transition into Mike's is butter & jam on hot cosmic toast level smooth. So smooth, that you might not even realize it's happened until you hear "Trapped in time and I don't know what to do"... Immortalized on the Walnut Creek DVD release of 2008- this 20-minute DwD is one of the finer ever played & perhaps the most discussed DwD of all time.
2. Florence, Italy - 2/21/1997


We had to give Italy some love on this list. This DwD is a joyride. It begins where all heaviest, dankest funk jams do- in a dank, dark bassment. Mike holding the floor and turning it into lava. Fishman and the audience seem totally in sync throughout the entirety of the 26-minute burner. Around 10 minutes in, Page & Fishman lead us back into the dank and cavernous cave of this mysterious Italian DwD. Everything begins to unravel for one moment before taking off like a rocket dipped in WD40 before the finish line. Ends a little sloppy but Fish picks up the pieces and gently slides us into Lizards... Read the Weekly Catch with Osiris on this legend of '97 show. (Which includes an impassioned Jon Fishman exclaiming "This is a Dream Come True!" during the "Wash Uffizi Drive Me to Firenze" section of YEM.)
3. Saratoga Springs, NY - 6/26/1995
No list of dirty Disease's would be complete without the legendary SPAC '95 Disease. This Down with Disease goes hard. It begins in a kind of triumphant way that makes you feel like you could walk right past the 1,000 kids dancing on the lawn and straight down to the choice SPAC pavilion. What's so incredible about this is that once you get to the Promised Land (the pavilion), you realize you've entered the gates of hell. Y'know those "Make Phish Evil Again" hats that started popping up a few years ago? This DwD is what those hats are talking about. Count your rosary beads and take this one for a spin. If you're ready to be saved, enjoy the Free to follow.
4. The Great Went- Limestone, ME - 8/17/1997
Is this still The Great Went, or did we somehow end up in Pompeii? Because if I closed my eyes, I'd swear we were at a Pink Floyd concert. This Disease is major. The title of this YouTube video title reads nonchalantly "(Live-SBD- Best Ever)" and just as nonchalantly as the title dubs the "Best Ever", the nearly 28 minute DwD slowly and surely reveals itself to be just that. Completely spaced out and buzzing with dank, dark Disease energy. A rare treat where we see Fish take the helm and he steers us right into a black hole...
5. Big Cypress - Big Cypress, Florida - 12/31/1999
What can be said about Big Cypress that hasn't already been said? (Or discussed at length over a series of 5-hour long Podcast episodes from our friends at Osiris?) Clocking in 3rd song- 2nd set- (After "Meatstick>Aud Lang")- makes this historic DwD the first Phish jam of the century. To be frank, I'm not sure it would've mattered what the song sounded like. Ringing in a New Millenium with a dance party of 85,000 of your closest friends is an experience that transcends musical critique. I don't believe the gravity of this once-in-a-lifetime experience was lost on the band for a moment and this triumphant DwD is evidence of that.
6. MSG - 12/30/2017
A 3.0 Disease! DwD in the age of 3.0 tends to sound more like an anthem than a downright dirty, dank, funkified groove ballad. What's so enjoyable about this particular DwD is its LEGS. And we're talking 50 minute long, fully tuned in and turned up legs that travel well into the second set. This DwD shifts between a new yet strangely familiar dark, dungeon synthy motif and a train full speed ahead into the guitar solo hall-of-fame. There are many DwD worth discussing that have been performed on this stage-- but this one's got every shade of Phish we could ask for.
7. The Original! Worcester, MA - 12/31/1993
This DwD is the debut of the jam and stems perfectly in and out of every Phish fan's favorite holiday burner, Aud Lang Syne. This wouldn't be the last time that the band segued from Aud Lang into DwD (Can anyone tell me how many time's that's happened?! First to correctly DM our Facebook page with the correct number we'll send a CoT shirt & hat!) This is a short but sweet disease, and it was probably just formulating as an idea Trey's head, but it's worth putting on this list for historical context, and Trey's gloves-off shredding into 1994 with what would soon be a fan favorite is certainly worth the listen.
8. Hershey, PA- 12/1/1995
Short, sweet, and exceptional. This DwD is on the shorter side, and while we love an experimental quest for truth in long winding jams- we also love a straight shooter. So we'll let this one speak for itself.
9. Lemonwheel- Limestone, ME - 8/16/1998
You may want to wash your hands after you listen to this one, just to be safe. The band kicks off the second set of the third night of Lemonwheel (the second Phish festival at the Loring Airforce Base in Limestone, ME) with what may be the funkiest and dirtiest Down with Disease on our list. The energy between Trey and Mike could've easily launched any aircraft on the base into orbit if it weren't for Fish keeping them on the ground between 8-13 minutes. The (unfinished) jam goes pure unpasteurized Cow Funk before it takes an almost ambient (perhaps a vibe recycled from the Ambient Set the night before) turn into Piper.
10. MTV -1994
Treat yourself to a little MTV nostalgia while if you've listened to the entire collective 4 hours of Disease Jams presented here. It is truly a relic of the '90s in the best way!
The time has come where I can finally say, this has all been wonderful, now I'm on my way. I don't think anyone could've expected that 3 months into 2020 we'd be living our lives from home, in a world almost completely void of the live music that connects us all. We hope you're finding time for the things you love in this weird new world. Make silly lists like this one, make art, make time to check in on each other.
Lots of love from your friends at CashorTrade. We hope to see you all soon!
Our nonprofit partners The Waterwheel Foundation will be selecting a different charity doing work to support COVID-19 relief to allocate all donations made on the day of Phish's new weekly free live stream sessions Dinner And A Movie.
Please consider donating and enjoy the live stream Tuesday nights at 8 pm via LivePhish.net!