CashorTrade BlogBack to Blog »
Dead Set with Oteil Burbridge
February 22, 2017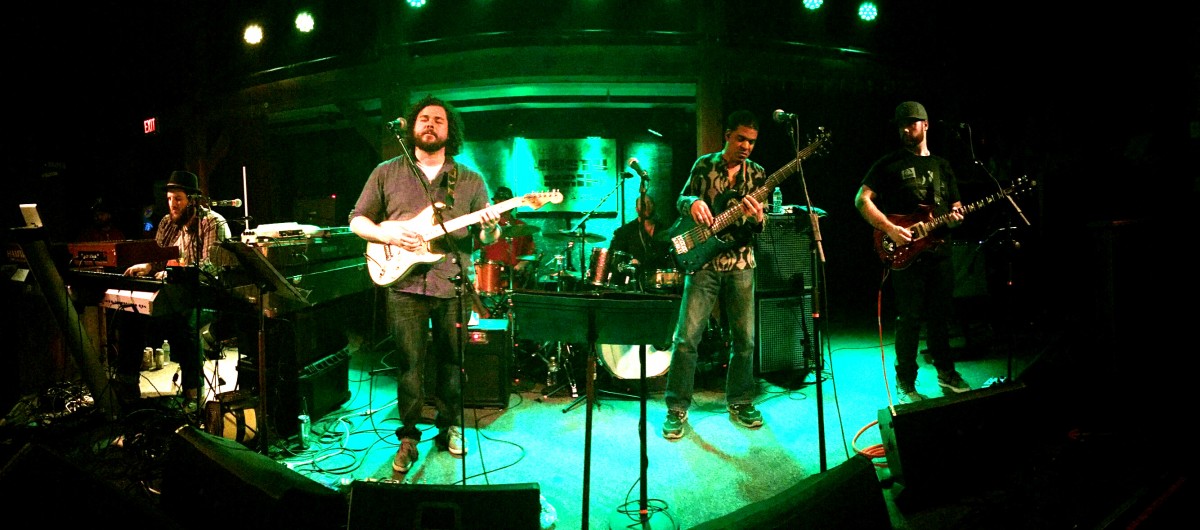 Article written by Martin Kelley. Photos by Chris Brakhage.
Dead Set, February 4th at the Rusty Nail in Stowe, VT.
With four years in the running, and a rotating cast of well vetted musicians taking part in the sound, Dead Set has become a household name in the Vermont music scene. Keeping us entertained at Nectar's in Burlington on Tuesday nights, and playing a good number of regional gigs as well, they've garnered some well deserved recognition.
The Intro to Loose Lucy
When you put together a stellar line-up featuring Oteil Burbridge (Dead & Co., Allman Bros.), Zack Nugent (JGB, Dead Set founder), Luke Smith (Strangefolk), Aaron Katz (Percy Hill), and Richard James (Pink Talking Phish), and serve it up on a Saturday night in an amply accommodating venue like the Rusty Nail in Stowe, you have a recipe for a real good time.
It was no surprise that this was a sold out show. People came out of the woodwork from far and wide. From the local devotees to the more casual fans, everyone brought their good vibes to share in the magic. New friends were made and old friends re-united, and everyone forgot about the time for a little while.
No corners were cut on the jamming. Choosing to open with a "Help>Slip>Stranger" let everyone know they meant business. The guitars found their voice together, the drummer's were tight from the get go, and the keys rang in with that sparkly tone reminiscent of a good late 80's show. "Feel Like a Stranger" cruised to a pretty high altitude, then they let us get our feet back on the ground with some "Tennessee Jed." The vibe loosened up to the pretty licks of "Peggy-O," buoying us along with it's sweet melodies. Bringing the tempo back up, Oteil belted out the vocals to a rocking "I Need A Miracle". They kept the crowd hot-stepping with "Brown Eyed Women", before setting the first set down with an energetic rendition of "Jack Straw."
Second set sailed us furthur into deep waters, with Dead Set veteran Sean Preece joining the stage on vocals and rhythm guitar. Sarah Blacker provided the female vocals that no "Estimated" is complete without. The contemplative "Stella Blue" followed, before the got the crowd moving again with Preece remaining on duty for "Playing In The Band". New Speedway Boogie is always a crowd pleaser and it's shout out to the mountain was not lost on this crowd. The lofty and anthemic "Terrapin Station" followed, floating nicely on the energy that the crowd and band had been building on all night. They gave the crowd another chance to breathe and listen with the heartfelt ballad, "Standing On The Moon." Hearkening vibes of togetherness in a world fraught with politics and war, it seemed a good choice to end the first set with. The double encore gave everyone another chance to shake it around with "Loose Lucy," and then bid everyone farewell with the lonesome and somber "Brokedown Palace."
The mixture of great musicians, an enthusiastic crowd, and an awesome location combined with setlist that took us through some of the peaks and valleys of the Grateful Dead repertoire made this a Dead Set for the books. It is great to have a soundboard recording of this gem of a show in the archives.
Set List
Set 1
Intro
Help On The Way> Slipknot>
Feel Like A Stranger
Tenn. Jed
Peggy-O
I Need A Miracle
Brown Eyed Women
Jack Straw

Set 2
Intro
Estimated Prophet*>
Stella Blue*
Playin In The Band*
New Speedway Boogie
Terrapin Station
Standing On The Moon

Encore
Loose Lucy
Brokedown Palace
Here's a full recording of both sets for your listening pleasure from Archive.org.