CashorTrade BlogBack to Blog »
HELP VERMONT
September 11, 2011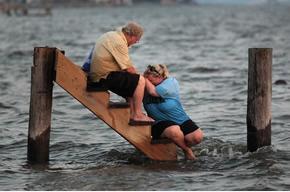 \"Tropical  Storm Irene triggered the worst natural disaster in Vermont since 1927.  At least three people drowned, and two are missing; hundreds of homes  were damaged or destroyed; the state\'s road system was broken in so many  places they have not yet been counted.

Across southern and  central Vermont, small neighborhoods and some entire towns were cut off  from the outside world for two or three days, without electricity or  telephones, with dwindling supplies of food and water.\"
Below are photos and videos and how to help:
UPDATE: Waterbury, VT
HOW TO HELP!

Text FOODNOW to 52000 to donate $10 to Vermont Foodbank . The Foodbank will turn each donation into $60 for families in need.
You can donate to the United Way's Vermont Disaster Relief Fund online, or buy sending a donation to your local United Way. Just make sure your donation is marked for the "Vermont Disaster Relief Fund".
You can also donate to the American Red Cross of Vermont and the New Hampshire Valley . The Red Cross set up shelters immediately after Irene hit for flooded-out families to stay in. (Note: While all donations are appreciated, financial donations offer the Red Cross the greatest flexibility for response in this crisis. Donations can be made at

www.vermontredcross.org

or by calling

800-660-9130

. For those who are interested in volunteering, they can contact their operations headquarters at

802-773-9159

.)
The VT Irene Flood Relief Fund is raising money to help people and communities affected by flooding. 100% of all donations will be distributed to businesses and families. The fund is being administered by Todd K. Bailey.
Vermont Baseball Tours has set up the 8/28 Fund to raise money. Donations of $20 or more get you a cool t-shirt.
The MRV Community Fund has been reestablished to help Mad River Valley farmers who saw devastating crop losses due to the flooding.
Independent Vermont Clothing is selling a special "I'm With VT" t-shirt. All profits from sales of the shirt will go to relief efforts.
Across the lake, upstate New York got hit hard by Irene, too. Donations are being coordinated on the Irene Flood Drive Facebook page.
Burr and Burton Academy has started a fund to help relief efforts in the Manchester area.
The Preservation Trust of Vermont is taking donations to help rebuilding and cleanup efforts for the historic buildings and bridges damaged by Irene. Make a donation on their site and be sure to note "Hurricane Relief" in the Comments section.
The Intervale Center has started a fund to help the farmers at Burlington's Intervale who lost their crops to flooding . To make a contribution, donate to the Intervale and designate your donation to the "Intervale Center Farmers Recovery Fund." Or mail a check payable to Intervale Center Farmers Recovery Fund to the Intervale Center, 180 Intervale Road, Burlington, VT 05401.
VOLUNTEERING
Route 4.

Route 4 in Mendon, Vt., collapses while the Mendon Brook overflows.

A person searches for anyone who may be occupying the building as raging flood waters from Tropical Storm Irene cross Route 100.

Lauren McTear looks over the remains of the trailer home owned by her boyfriend\'s parents.