Blog
Dave Matthews, Grace Potter to Perform on CashorTrade as Part of Hug Your Farmer Benefit LiveStream
June 22, 2020 - By Jonny Adler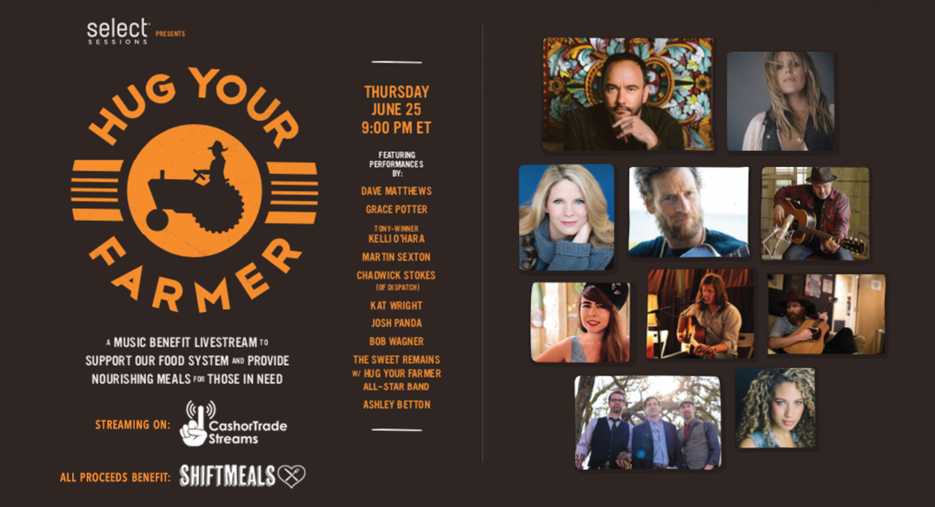 Our beloved home state of Vermont is a very special place, and nothing shows that more than Hug Your Farmer, a music benefit series hosted by the creative team at Select. AA true local all-star band, Hug Your Farmer has hosted legendary celebrations. They played the Last Waltz in its entirety, a tribute to 50 years of the Rolling Stones, an amazing Tom Petty celebration, and so many others. Always, musicians come together to support an amazing cause.

This time around, the beneficiary is ShiftMeals, an inspiring local organization started by Vermont s own The Skinny Pancake that delivers thousands of healthy, free local meals each week to local Vermonters in need due to COVID. 100% of your donations through CashorTrade go directly to ShiftMeals.
Tune in with us to CashorTrade this Thursday June 25 at 9pm. We'll be hosting a watch party on our platform where you can chat with other members while you enjoy it and donate when the music moves you to do so.

RSVP on Facebook:
https://www.facebook.com/events/1690725134414268/
LIVESTREAM LINK: https://cashortrade.org/streams/hug-your-farmer/183