Blog
CashorTrade To Stream Justice Comes Alive In Partnership With LiveForLiveMusic Featuring Phil Lesh, Antibalas, Umphreys and 50+ Other Artists
June 24, 2020 - By Jonny Adler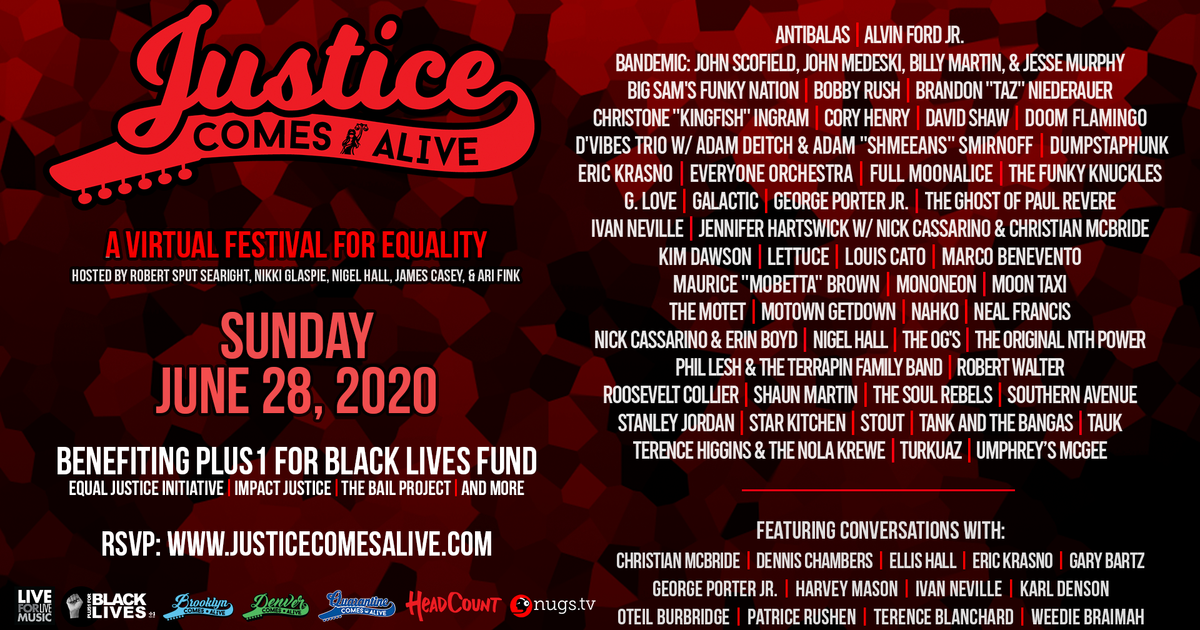 CashorTrade Streams is proud to cohost Justice Comes Alive, a one day, virtual festival harnessing the power of music to bring about collective change in response to racial inequality. The donation-based streaming event will generate funds for the participating artists, who remain out of work as the pandemic continues, as well as a number of social justice-oriented causes via the PLUS1 For Black Lives Fund. HeadCount will be on hand to further encourage voter participation.
An awesome lineup of musicians contribute to the cause in a variety of ways, from socially distant studio sessions to remote video collaborations to crowdless sets at venues around the country. Performers include Antibalas, Big Sam s Funky Nation, BANDEMIC (John Scofield, John Medeski, Billy Martin, & Jesse Murphy), Phil Lesh and the Terrapin Family Band, Stanley Jordan, Brandon Taz Niederauer, Christone KINGFISH Ingram, Dumpstaphunk, Galactic, Lettuce, Nahko, The Soul Rebels, Tank and the Bangas, TAUK, Turkuaz, Umphrey s McGee, and many more.
The PLUS1 For Black Lives Fund was developed to address and continue the fight against anti-Black racism and violence in the U.S. Directly supporting organizations like Equal Justice Initiative, Impact Justice, and The Bail Project, the PLUS1 For Black Lives Fund focuses on empowering Black communities, movement building, keeping people out of the criminal justice system while dismantling it more broadly, and a collective, international narrative change toward the equitable treatment of Black people. 30% of the PLUS1 for Black Lives Fund is also committed to small grants for Black and Indigenous-led grassroots efforts combating racism.

Fans are encouraged to head to JusticeComesAlive.com and donate to the cause. Anyone who makes a donation of any amount will receive a link to the stream on the morning of the event. CashorTrade Streams will host a watch party all day Saturday where fans can chat with each other and donate to support the PLUS1 For Black Lives Fund.