Blog
A Preview Of This Year's LOCKN' Collabs
February 18, 2019 - By Sarah Bourque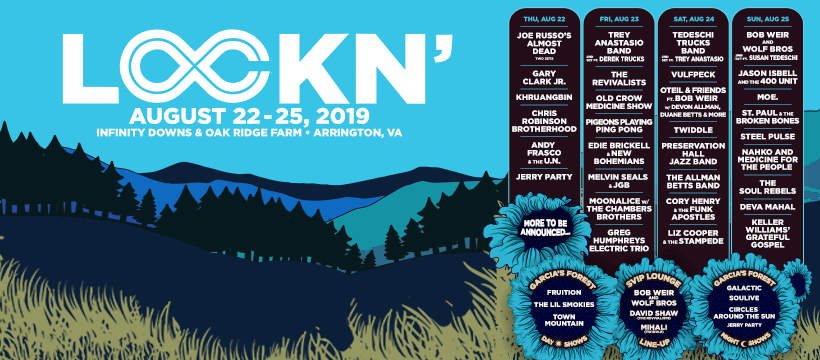 Last week, LOCKN' announced the line-up for this year's festival, but unlike other lineup announcements, you always have to look twice at LOCKN' to know what's really going on. Some epic collaborations take place every year--who could forget the infamous Bobby and the Avetts in 2017 that included the treasured deep cut "Mission in the Rain." Hopefully more magic like that happens this August 22nd-25th at Infinity Downs Farm in Arrington, VA. This year will feature a flip flop of musical delights including the Trey Anastasio Band featuring Derek Trucks, Tedeschi Trucks Band featuring Trey Anastasio, and Bob Weir and Wolf Bros featuring Susan Tedeschi, as well as Oteil & Friends with Bob Weir featuring Devon Allman, and Duane Betts. A return staple, Joe Russo's Almost Dead, will headline on the opening night. moe. also makes a return, this time with bassist Rob Derhak joining in as last time he was home recuperating from his cancer treatments - of which he has made a full recovery.
The stacked line-up also includes Chris Robinson Brotherhood, Gary Clark Jr., The Revivalisits, Vulfpeck, Twiddle, Jason Isbell and the 400 Unit, Steel Pulse, Pigeons Playing Ping Pong and so much more. The four day event will also feature late night performances by Galactic, Soulive, Circles Around the Sun and Jerry Party. Day time shows in Garcia's Forest include Fruition, The Lil Smokies and Town Mountain. It's a guarantee that your musical taste buds will be completely satiated over the four days. For the complete line-up, as well as tickets and lodging info, head to LOCKN's official website.
This won't be the summer's first rodeo together for a bunch of these acts. Moe., Pigeons, Mihali (Twiddle's lead guitarist) and Chris Robinson Brotherhood will run into each other at Summer Camp Music Festival over Memorial Day Weekend. Two months later, an even bigger crew shares the lineup at the Peach Music Festival in Scranton, PA.: Trey Band, JRAD, Pigeons, and moe. Now I know in real life they tend to come and go quickly after they shred their set, but maybe these are good weekends to practice all that inter-lockn? Just sayn'.
It's so good to see moe. return with the bands full line-up. Before summer fest season, they come in strong with a spring tour that takes them around the country. That tour is starting to sell out--Feb 22 at The Brooklyn Bowl already is. If you don't get a ticket in time, we got ya covered. Keep an eye on our moe. Facebook group. Fans that post tickets to CashorTrade will automatically appear there as well.
That's not all the help you'll need from your brothers and sisters who embrace the face. Trey Anastasio Band has sold out most of his spring and summer tour. The Trey Band Facebook group will help you score those harder to find tickets. Our Pigeons Facebook group is pretty active as well and (little known fact) our JRAD group is one of the top 5 on all of Cashortrade.
With so many great line-ups being announced lately, it's getting harder to plan ahead and pick which ones to attend. To stay on top of all this madness, join our Festivals page--even last minute impulse buys are face value :). And, if your plans change, it's a great way to offload your tickets.
There are still more line-up announcements to come! It may be cold outside right now, but warm nights dancing under the stars is not too far away...