CashorTrade BlogBack to Blog »
Making Noise With The Untz
May 15, 2017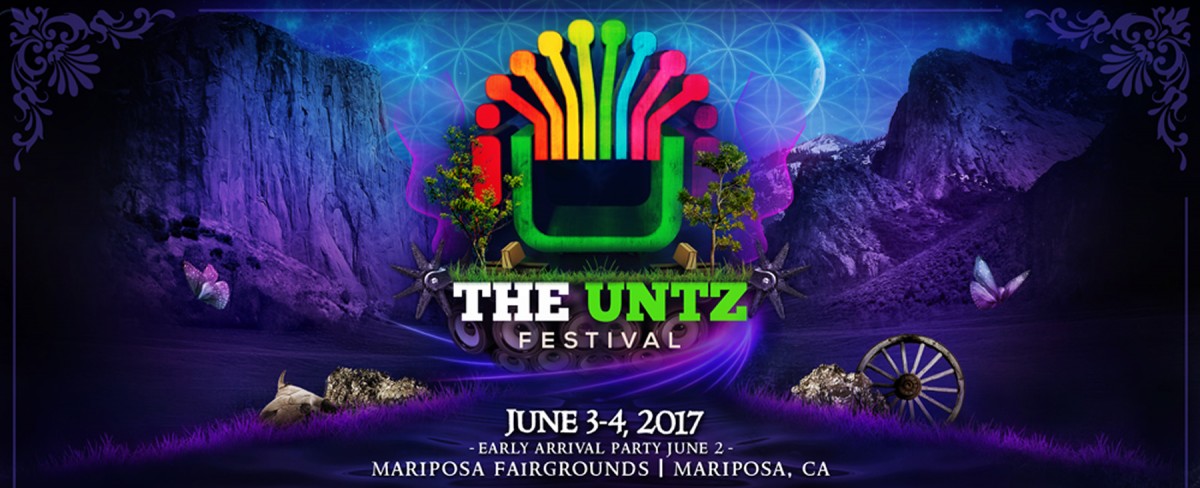 If you're a lover of electronic music, especially underground, then there's a good chance you already know about The Untz, and if you don't know, well, now you know. Created in 2009 by Avi Gallant and Matthew Thomas, The Untz has provided a space for all things electronic; created as a solution to the vastly expanding electronic universe. If you're looking for information on artists, venues, events, or promoters, you don't have to search all over the internet, it's all there in one place. After several years of involvement in the electronic music community, it made sense for The Untz to put on a festival of their own. 
The Untz is composed of a team of self described "curious, critical, and analytical types who pay attention to every little detail of a festival." Since the beginning, the team had been attending festivals and analyzing all the details that go into the making of each event. It was their goal to bring something different to the electronic music table. I made the mistake of describing The Untz Festival as an EDM festival to which Gallant was quick to correct.
"We're not an EDM festival. That goes back to our vision. We cater specifically to what our fans love, which is underground bass. If you want an EDM festival, you've got your pick of hundreds of events with huge budgets and megastars. That's not us. We celebrate the under-celebrated, and value originality, talent, and the music above all else."
With their goals solidified, The Untz team prepared to create a festival to reflect their vision. They are well aware that most of the EDM crowd might not know even one act on their lineup and they are totally cool with that. The crowd they want to appeal to are the "incredibly rabid fan base of music junkies who eat, breathe, and sleep" electronic underground. They knew what they wanted to produce and they grabbed the bull by its horns. 
"My put up or shut up moment came in the summer of 2015, when I actually uttered the words 'We're going to throw a festival' to the rest of the team," says Avi Gallant. 
A lot of the time, greatness begins with a simple, yet bold statement. A year later, after meticulous planning, The Untz Festival made it's debut. Gallant stresses the importance of being extremely strategic, "You can have all the money in the world, access to the biggest stars on the planet, but if you don't have an impossibly detailed outline of absolutely everything from the tip of the tallest floodlight in the parking lot to the depths of the furthest port-a-potty on the festival grounds, you're going to flop."
Luckily, with a group of perfectionists, encapturing the tiny details that go into creating a festival came naturally. Gallant knows everything about the grounds, the location of the bathrooms, the distance from camping to the stage, where the vendors need to be, how the entry lines will snake around the parking lot, everything. 
That's not to say there wasn't any struggles along the way, Gallant explains that grabbing people's interest can be difficult. The electronic music scene is huge and there are a lot of festivals catered to that crowd so it can be hard to convince people to attend a first-year festival. However, the outcome makes all the hard work and struggling worth it.
"Our greatest reward was looking around and seeing nothing but smiling faces at our festival. Our team came together beautifully; problems arose (as they do), but were handled with ease and proficiency, and seeing that first year come together with some of my favorite artists from across the electronic music spectrum as well as some of our best allies and friends in the industry was one of the great moments of my life. That's why, despite all the heartache and stumbling blocks and disappointment and sleepless nights, we just had to do it again."
And do it again, they shall! The Untz Festival is gearing up for its second year and returning to The Mariposa Fairgrounds. Mariposa is a little mountain town in northern California, just 45 minutes away from Yosemite National Park. Gallant looked at every festival venue in the state, but he loved Mariposa for its small town feel. He found that everyone from the fairgrounds staff to the local sherrifs were warm and welcoming people, and knew he found the right spot. 
"This city really has welcomed us with open arms, and the venue itself has so many built-in amenities like the second outdoor stage, the late night spots, flushing showers, indoor toilets; our festival production team took one look at the place and fell in love, because you're not starting from scratch, it's a great spot just waiting for us to adding the little frills that take it over the top."
With a sick lineup, a beautiful venue, and an honorable mission, The Untz Festival's second year is something to look forward to. After all, the electronic underground scene provides a plethora of amazing music crafted by muscians who truly put all their effort into making works of art. The festival takes place on June 3-4 at the Mariposa Fairgrounds, Mariposa, CA. You can purchase your tickets here, or enter our Grateful Giveaway for a chance to win a pair of 2Day Passes! Either way, we strongly suggest you check it out, just ask Avi himself...
"Just like our fans, we're deeply passionate about the music. We're looking forward to discovering our next favorite artist. Seeing all our hard work pay off in a safe, inviting, friendly, and electric environment will be great, but once those gates open, we're off the clock (OK, sorta off the clock), and we're turning into little fan boys and fan girls just like everyone else, running from one stage to another with glee to see our next favorite act."