CashorTrade BlogBack to Blog »
NYE TICKET GIVEAWAY WINNERS!!!
December 17, 2012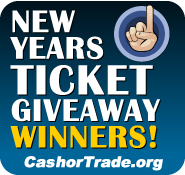 CashorTrade.org, the official face value ticket trading community, would like to announce this years winners.  Every year CashorTrade rewards its members by giving away 14 tickets to 7 highly sought after NYE shows across the country.  It has been a way of saying THANK YOU to the community's dedication towards building a face value ticket alternative, and supporting the Internet's very own fair trade marketplace.
CashorTrade.org has almost reached 20,000! members and is currently partnered with 15 websites who have integrated the COT trade list API. Also be sure to check out the newly released STOREFRONT pages that give creative members the opportunity to brand themselves and sell their arts, crafts, clothing, jewelry, and more. Best of all…like everything on Cash Or Trade, its completely Free!
Join us in 2013 as we expand on the sites functionality and provide members the ability to post their trades directly through the trade list api featured on the many websites, blogs, and facebook. http://cashortrade.org/api
Below is the list of the 14 members who will receive 1 ticket to the specified NYE show.  Thank you all once again for your participation and embracing the face in 2012.  We wish you a happy healthy new year!
~ Brando and Dusty