Blog
Our Top 5 Phavorite Lot Scenes
February 25, 2021 - By Alec Tatro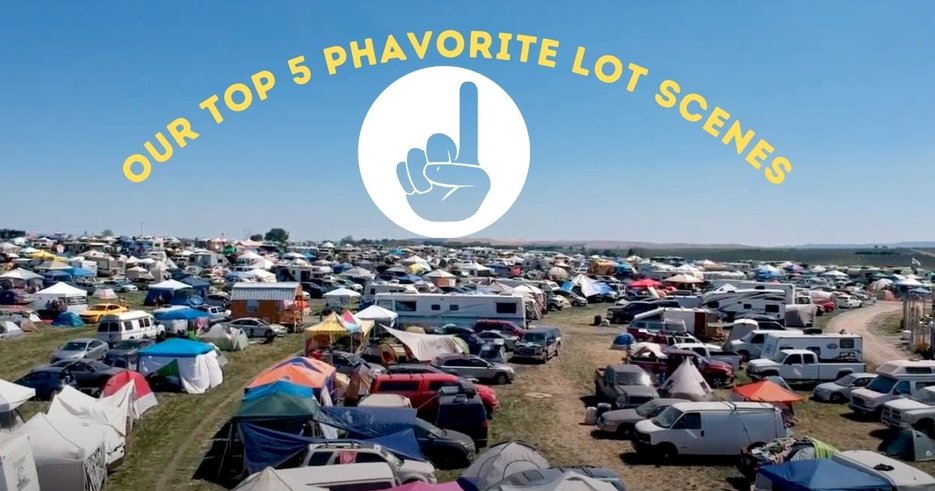 In the spirit of socially distanced shows and festival announcements, we at CashorTrade want to build some excitement for the months to come. With seeing more show announcements on the horizon, it reminded us of one of our favorite parts of being on tour - the lot scene. Every lot looks different across the U.S, but also share a lot of things in common. The smell of grilled cheese and the emanating sound of Jerry Garcia Band and Phish can be heard through all corners of shakedown, along with vendors exchanging pleasantries, and the oh-so exclusive heady deals goin down. Sometimes a lot scene can be just as fun as the show itself and provides a great opportunity for fans to mingle and exchange goods (hey, kind of like CashorTrade!). This kind of family gathering is one of the things we look forward to when the world returns to normal, so we decided to make a list and remark on our favorite lots you might stumble upon when you're truckin across the U.S to see your favorite shows.
1. SPAC (Saratoga Performing Arts Center) - Saratoga, NY
VIDEO: SPAC Lot - 7/7/13 - Saratoga Springs, NY
1. Being so close to CashorTrade HQ, we couldn't compile this list without giving a special shoutout to a venue we hold near and dear to our hearts - the Saratoga Performing Arts Center, or colloquially known as SPAC. You'll find its vibrant lot-scene across the street from the venue, as you walk across the bridge over the highway. It's a convenient to find lot, but if you're ever having trouble locating this shakedown, you can surely follow the smell of vendor food or follow the many dogs that are brought to SPAC's lawn. SPAC's lax attitude with bringing your dog to your favorite show is just another reason to love this venue, and for all the dog lovers out there, it's a must-visit venue. Being situated in a state park, this lot scene has a beautiful atmosphere as you're surrounded by lush green trees and all of your favorite pals. Who doesn't love that?
2. The Gorge - George, WA

VIDEO: Phish Lot at The Gorge (Aerial View) 2018
2. Our next choice might have to take the cake for the best atmosphere award. The Gorge Ampitheatre in Washington State is one of the most unique outdoor venues on the west coast. According to The Wallstreet Journal, The Gorge is considered one of the most scenic concert locations in the world. When you're seeing a show here, you'll have the majestic view of the Columbia River and the foothills of the Cascade Mountain Range at all times. The best part of this lot, is that the on-site camping and lot scenes bleed into each other, and this lack of separation provides a 24/7 festival-like charm that keeps fans coming back (as if the view wasn t enough). The accessibility to the venue is like no other, as you can enter from either end of the venue and many entry points lead you from the homogenous tent/lot scene straight to the show. Due to the camping areas being further away from the show, it's not uncommon to find yourself close to showtime, walking with a massive procession of fans marching to their destiny. Quite literally, floating with the flock.
3. Dick's Sporting Goods Arena - Commerce City, CO

VIDEO: PHISH 2016 Dick's Sporting Goods Park
3. Next up on our list has one of the most highly regarded, and interactive lot scenes out there. What's a list of shakedowns without mentioning Dick's Sporting Goods Park in Commerce City, Colorado? It's a fan favorite for good reason. When there aren't soccer games going on at Dick's, there are other games going down before and after a rock & roll concert such as glow in the dark ring tosses, the famous fox vs bear toy-sparring matches, disco parties, kiddie pools and so much more. With Phish shows always being on a holiday weekend, on-site camping and multi-set shows, Dick's feels more like a festival than your average show, and a holiday in it's own right.
4. Merriweather Post Pavillion - Columbia, MD
VIDEO: Merriweather lot Phish 8-15-15
4. Merriweather Post-Pavilion, also known as MPP, has a bright and vibrant lot scene that has existed for years. Where the lot is situated is usually a mystery, as each year it moves to a different part of the surrounding area, but that's part of the fun! MPP is located in a gorgeous wooded area of Symphony Woods Park in central Maryland, and is very lawn-oriented, with a newly renovated skylawn that feels more like a private viewing club than a summer show lawn. The lot usually occupies a strip surrounding the venue, with tons of vendors and food tents, making you feel like you're almost in a city of its own. Hanging out on the city blocks of this lot, you're sure to run into your friends and fellow fans from across the country.
5. Blosssom Music Center - Cuyahoga, OH
5. The last lot scene we'd like to mention here is Blossom Music Center, located in Cuyahoga Falls, Ohio. Due to sheer population, Blossom's lot scene could easily be the highest on the list. There is so much to do, and so many vendors as far as the eye can see. For the more relaxed folks, the grass portion of Blossom is your spot, and a lot of wooded shade can be found which can be a remedy to the summer sun. We kid you not - you can hardly see from one side of shakedown to the other, and it's a sea of happening. There's a lot to say about the venue itself, but if you're looking to experience one of the biggest shakedowns in the country - this is your spot.
Visit our Facebook or Instagram page to let us know what YOUR favorite lots on tour are, and share any good lot stories you can!