Blog
moe.'s 'snoe.down' Festival Cancellation & Refunds
January 27, 2021 - By Dana Slattery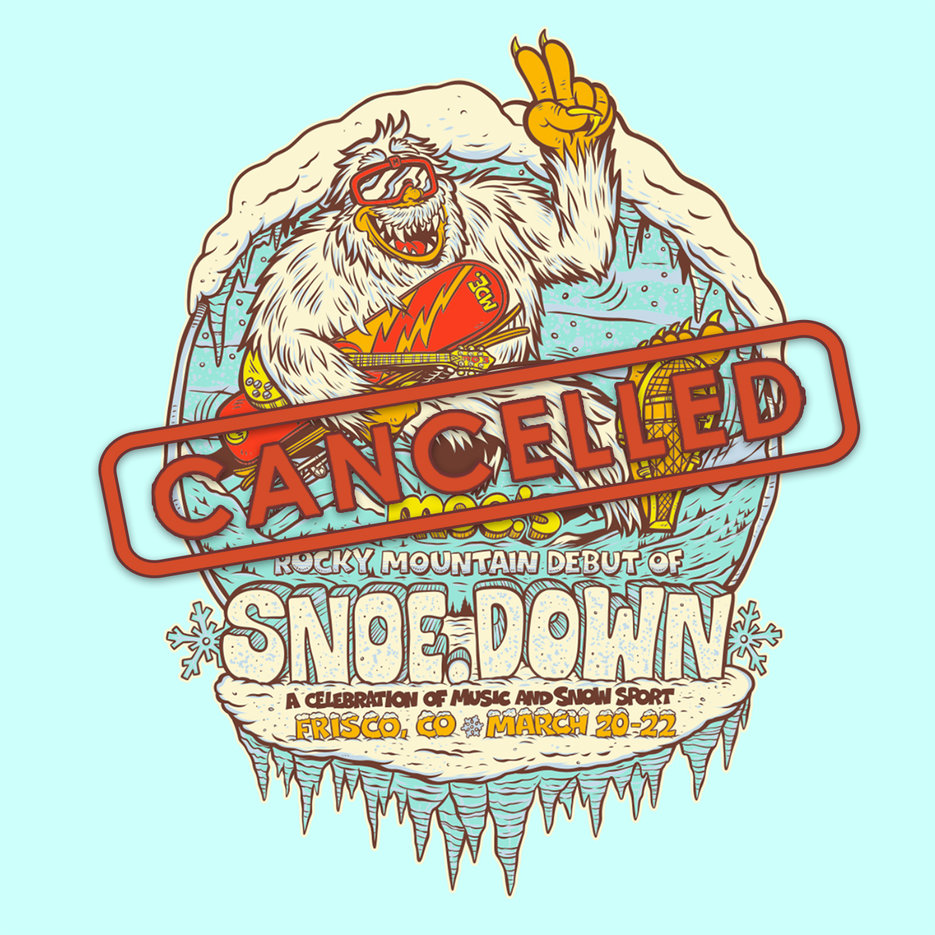 Earlier this week, jam scene titans moe. announced the official cancellation of the much anticipated West Coast return of the band's once annual winter festival 'snoe.down', presented by 10 Mile Music Hall in Frisco, Colorado. The event was meant to take place in late March 2020, but of course, was rescheduled to 2021 in response to COVID-19. Along with the cancellation announcement made on Instagram Tuesday, moe. eluded to dissatisfaction with promotion company 10MMH, claiming the venue had never made any effort to provide refunds for the rescheduled event, and that the band would be fronting a 35% refund to ticketholders themselves.
"For those of you who have been looking for answers on any previously requested refunds, we are frustrated as well. We never received any funds from 10 Mile Music Hall, the event's promoter, & they have not offered to fund the refunds for tickets. But we have been able to do the following:
Those original ticket holders who purchased their tickets via the artist presale with Tickets Today will be issued a 100% refund. These refunds will be automatically made to the original point of purchase & you should expect an email from Ticket Today's parent company, Ticketmaster.
For the other ticket buyers, the moe. organization has gathered enough money to offer a 35% refund to all original ticket holders who purchased a ticket to snoe.down via Eventbrite. An email will be sent to those purchasers with directions on how to receive your partial refund."
This post spawned a barrage of hate, trolling & even death threats aimed at the small Colorado-based venue/promotion company. Within hours, 10 Mile Music Hall responded with an e-mail to ticket holders,
"Regarding the snoe.down ticket refunds. We would like to clear up some misinformation circulating through the moe. and Relix community. First, we want to emphasize that WE INTEND TO PROVIDE FULL REFUNDS for these and ALL SHOWS as soon as we are able to do so. We are very sorry that it is taking so long for us to get our financial house in order, but WE INTEND TO FULLY REFUND ALL CANCELLED SHOWS.

While gracious and moving on some level, the statement released by moe. today was inaccurate and misleading as it relates to 10MMH. The announcement states that we never received funds from 10MMH which is both false and not in dispute. The substantial deposit that 10MMH paid to moe. (via booking agent) last February represents (the) money being refunded at this time. Second, the statement claims that, they (10M) have not offered to fund the refunds for tickets. This is also misleading and false, as we have consistently communicated in public and to moe. s management that we will fully refund tickets as soon as we can. Unfortunately, we have been waiting for federal relief during a pandemic in an election year, so its taking a long time and we sincerely apologize for the delay. With the passage of the SOS Act help is finally on the way (and maybe a Slipknot>Franklins too if we're lucky)."
The message from 10 MMH mentions the passing of the 'Save Our Stages' act, which after months of letters, petitions and fundraising from NIVA, NITO, countless donors & music venues, just passed in December with the latest COVID-19 relief bill. The bill is set to provide federal financial assistance to venues like 10 Mile across the country. Given that 10 Mile fully intends on refunding the tickets to their cancelled events, we suspect that full refunds will be financed through the recently passed Save Our Stages bill.
So, where does that leave ticketholders? Options for refunds to the cancelled festival play out in a few ways.
1.) Ticketholders can request the partial 35% refund using the e-mail moe sent out yesterday with the cancellation announcement. Ticketholders will find instructions to request your refund in that email.
2.) Hold off on requesting the 35% refund from moe., and wait to receive a full refund from 10 Mile Music Hall once their federal funding comes through.
*Note: Ticket holders who purchased their ticket via the artist presale with Tickets Today will be issued a 100% refund. These refunds will be automatically made to the original point of purchase & you should expect an email from Ticket Today's parent company, Ticketmaster.
As for any purchases, sales, or trades made using CashorTrade for this festival, those who have purchased tickets via TicketMaster, please use the refund plugin we provided in your trade message since the show was originally rescheduled, and we will process refunds once the buyer and seller agree to the plugin. Meanwhile, for those who have bought moe. tickets through Eventbrite, we encourage you to hold tight until the 'Save Our Stages' act finances 10Mile, so that they can provide a full refund to the original buyer of the ticket(s). We expect this to occur over the next few weeks. Once the buyer has been compensated, we will process the refunds ASAP via the plugin once both buyer and seller agree. Please see our 2020 blog post for more information on processing refunds in the event of a cancellation.
We understand the frustration felt by ticketholders waiting on refunds for cancelled events. While obviously you are entitled to a timely refund for a cancelled event- we encourage our members to keep in mind the struggles we've all faced this year. Independent venues like 10 Mile Music Hall we're the first businesses to shut down across the country, and they'll be some of the last to reopen. The truth is, the music industry is hurting, and I think we owe it to small venues like this a kindness and understanding with that in mind.
Thank you for understanding .rons! We appreciate you all & can't wait to help you score tickets to your next moe. show.