CashorTrade BlogBack to Blog »
Start Making Sense Burnin' Down Higher Ground
May 08, 2017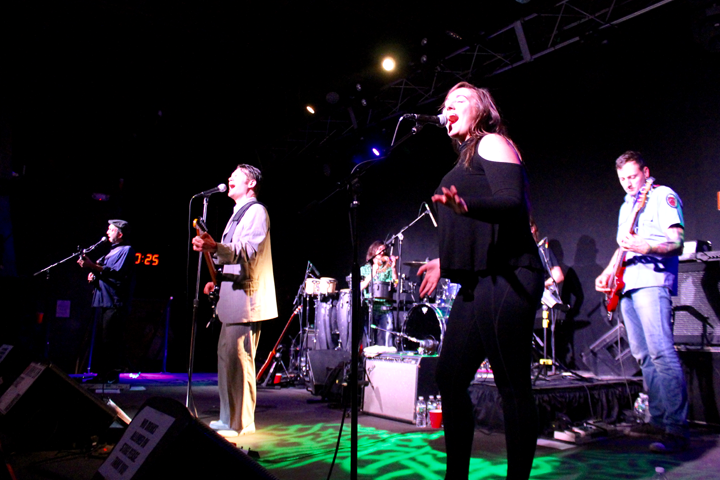 Article and Pictures By Martin Kelley
The Talking Heads formed in 1975. Dubbed as "new wave" with other artists growing out of the New York City punk scene, they developed a unique sound with elements of punk, pop, funk, and world music. Even though the Talking Heads broke up 1991, save for a one-off reunion in 2002, where they played a few songs at their induction into the Rock And Roll Hall Of Fame, their music has become a perennial favorite for multiple generations of listeners. They have managed to capture some deep elements of humanity in their music, while keeping a carefree and clean aesthetic about it.
For fans of the Talking Heads, old and new, a number of tribute bands have sprung up over the years to give them a chance to celebrate the music, and to keep it alive. Out of other contemporary tributes, Start Making Sense has earned their place at the top of the stack. The front man Jon Braun does such a spot-on David Byrne that it isn't difficult to suspend belief for the duration of one of their concerts, and imagine that you are actually seeing the Talking Heads. From his clean cut image and signature grey suit, to the dance moves and guitar struts, and most importantly the musicianship, he completely conjures the illusion. With this "I can't believe it's not David Byrne" gentleman on the stage, flanked by equally professional talent, Start Making Sense is a very immersive and enjoyable experience.
On April 28th, Start Making Sense made their most recent of many appearances at Higher Ground in Burlington, VT. They've grown in popularity here from playing in the Showcase Lounge to amply filling the Ballroom section of the venue. I have been attending their Burlington shows after seeing them play a Phish after-party during the Halloween run in 2013...and B-town definitely comes out for this. The crowd that gathered for this latest show was a cross section of our community, with people of different ages and different walks of life. Very indicative of the widespread appeal of Talking Heads music and the ability of Start Making Sense to recreate it for us.
The show opened up with the signature debut single 'Psycho Killer.' Putting their best foot forward with a such a crowd pleasing tune, the band had already brought the crowd into the music within the first few notes. Start Making Sense is a very energetic and animated band. Moving through numbers like 'And She Was' and 'Wild Wild Life,' it is hard to take your eyes off of them. Especially the dance moves of Jon Braun and backing vocalist Jenny Founds. This highly danceable vibe spread through crowd. You could easily see the happiness on the faces of the audience as they dismissed their cares for a while and just let themselves move to the music.
When Jon Braun announced that they were gonna do a cover of a cover that David Byrne had done before, I don't think anyone expected them to play 'I Wanna Dance With Somebody' by Whitney Houston. It definitely got people dancing, include a surprise onstage appearance by Chris Friday of Touchpants, who frolicked across the stage to dance with Jon Braun and share a few of the vocal duties on that number. The following song, 'Naive Melody,' which is possibly one of my favorite Talking Heads tunes, saw another guest appearance. Johnny Kimock, the drummer from Mike Gordon band joined the stage and held the rhythm down with Ryan Berg, the band's percussionist.
Without taking a set break, and filling their allotted time to capacity, they continued to burn down the house with a great set that kept us moving. I could feel a little fatigue coming from the crowd and myself from dancing down for the entirety of the show, but that ceased to be an issue when they busted into Al Green's 'Take Me To The River.' Breathing a surge of energy into the crowd with it's funky gospel overtones, everybody was shaking it hard as ever when they closed out the evening with 'Cross Eyed And Painless.'
The admiration between the music heads of Burlington, VT and this band seems to be a very mutual affair. They've come here and done compete album covers, and varied setlist of the hits. Every time I've seen them play at Higher Ground, the crowd has some pretty happy expressions on their face as the are walking out in the afterglow. Start Making Sense brings an awesome experience, and gives people a moment in time to leave their worries at the door, and hopefully some positive energy to take home. I'll be looking forward to that the next time they come around.
Musicians:
Jon Braun (lead vocals/guitar)
Jon Fadem (lead guitar)
Jenny Founds (vocals)
Mike Davidson (bass)
Ryan Berg (percussion)
Eric Svalgard (keyboards)
Jesse Braun (drums)
Setlist:
Psycho Killer
Thank You For Sending Me an Angel
Pulled Up
Slippery People
And She Was
Making Flippy Floppy
Wild Wild Life
Great Curve
Born Under Punches
Cities
Life During Wartime
I Wanna Dance With Sombody (Chris Friday- surprise guest vocals)
Naive Melody (w/ John Kimock on Drums)
What A Day That Was
Road to Nowhere
Pull Up the Roots
Like Humans Do
Nothing But Flowers
Once in a Lifetime
Burning Down The House
Girlfriend is Better
Take me to the River
Cross Eyed and Painless