CashorTrade BlogBack to Blog »
The Rise of Hayley Jane and The Primates
January 06, 2017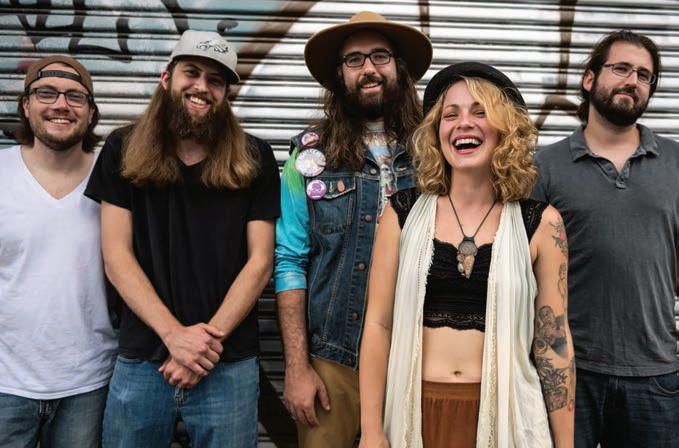 Burlington, VT has always been a hub of amazing local talent and Hayley Jane and the Primates are no exception. With a large range of music style types including bluegrass, early rock, musical theater, reggae and more, they have never seemed to have an issue drawing a crowd. Lead singer, Hayley Jane, describes the band as "a theatrical americana jam band."
"For me, it's about honesty and finding ways to amplify myself in the most raw, honest way possible. I love to strip myself down until all you get is pure vulnerability. It's terrifying and wonderful all at once. I'm lucky to have a band of brothers that support this journey of self discovery and we aren't trying to put each other in boxes."
Hayley Jane is fairly new to Burlington, officially moving here from Boston only a little over a month ago. She has made a name for herself in the local music community playing at Radio Bean, Nectars, Arts Riot, and High Ground.
"I fell in love with the city. Vermont has always had my heart and the music scene here in Burlington has a lot to offer. There's always great music at multiple venues every night which is great," Jane says when asked why she chose to move to Vermont, "You get all the seasons up here and the people are a very special breed. Lots of heart way up here. The community here is wonderful specifically the music community."
Hayley completely embodies the term musician. She is no stranger to hard work, often fitting late night guest appearances in after driving back from an out of state gig. You can find her at Nectar's stepping in during Dead Set or on Facebook where she posts her adult story time videos. She is an inarguably fantastic stage presence and an impeccable song writer. One may ask where she finds her inspiration.
"I find that changing how you write a song or gain inspiration opens up different doors into new worlds in your mind. Muses come in all shapes and sizes and being open minded is the only way you'll recognize them when they come, in my humble opinion of course. I don't think we would've ever written our song 'Charlie Parker' if Justin and I hadn't gone to that Arboretum in Jamaica Plain, Massachusetts. I hide a lot of my truths and secrets in characters I create in songs as well. I love to blur the lines of fact and fiction for the sake of art and entertainment."
You can catch them on tour starting on the 13th of January, and they have big plans for the upcoming year...
"The mind is extremely powerful so I love to picture us on the main stage at all our favorite festivals and opening for some of our favorite bands," Says Jane, "This year will be a year of development and organization for us. We are putting out an album this year. One that I am extremely proud of. This is going to be a very big year for us!"
Give a listen to Hayley Jane and the Primates' performing at Gathering of the Vibes below where we have also listed their latest tour dates. Also, stay tuned for the release of their new album "We're Here Now." If they are coming to a venue near you we recommend you check them out, you won't want to miss them.
==Upcoming Tour Dates==
--Friday - Jan 13, 2017
Harlow's Pub, Peterborough, NH
--Saturday - Jan 14, 2017
Alchemy, Providence, RI
--Friday - Feb 03, 2017
The Main Pub, Manchester, CT
--Saturday - Feb 04, 2017
Penuche's on Hanover, Manchester, NH
--Thursday - Feb 16, 2017
Aisle 5 w/The Mclovins, Atlanta, GA
--Friday - Feb 17, 2017
Nowhere Bar, Atlanta, GA
--Saturday - Feb 18, 2017
The Pout House w/Col Bruce Hampton, Charleston, SC
--Thursday - Feb 23, 2017
Doc Taylor's Seaside Lounge, Virginia Beach, VA
--Saturday - Feb 25, 2017
Bull Mansion, Worcester, MA
--Friday - Mar 10, 2017
Nectar's, Burlington, VT
--Saturday - Mar 18, 2017
Grizzly's at Stratton Mt., Stratton, VT
--Friday - Mar 31, 2017
Brooklyn Bowl w/Pigeons Playing Ping Pong, Brooklyn, NY
--Friday - May 26, 2017
Sterling Stage Folk Fest, Sterling, NH